Staff/Counselors/Lifeguards/Nurse
We employ 16 staff/counselors to live and work here during the summer. The staff-to-camper ratio is usually one to six. We also employ a summer program assistant director and a nurse. In addition to staffing the various activities, our staff serves as sighted guides, assists in serving meals, and in other capacities that serve our visually impaired and blind guests. We provide all the necessary training. You must be at least 18 years old by the start of the camp season to apply for this position. Background check and drug screen required.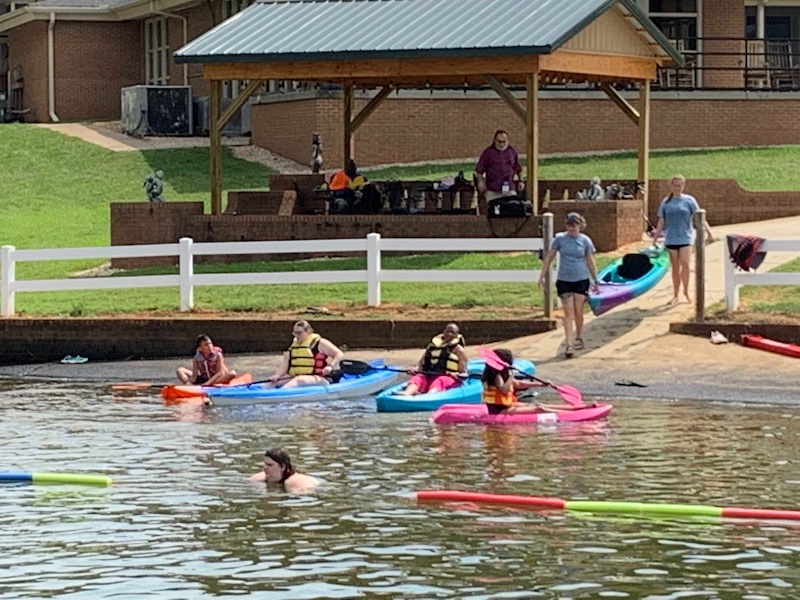 Our goal is to provide a week of fun and fellowship. We serve ages 18 years up to 100+ years in this program. Our campers must be able to eat, bathe, dress, and toilet independently. if they need assistance with self-care they bring a caregiver with them.
Note: This opportunity may also serve as an internship.
If you are interested in employment with our program please contact our office for additional information at 828-478-2135
Summer Counselor Application (PDF)
Volunteers
Volunteering for a week with visually impaired/blind campers will be the most rewarding experience of your summer. You can make a significant difference in the lives of the blind and visually impaired. Do you have a good energy level? Do you enjoy assisting visually impaired/blind persons? Come see what Camp Dogwood is all about, and how important it is to the individuals we serve. We need 6 volunteers each week. Meals and lodging are provided at no charge to our volunteers. This is a one-week commitment. Background check required.
Volunteer Staff Application (PDF)
Volunteer Medical Form (PDF)
Disclosure Authorization Form (PDF)
Please mail your volunteer application to our camp offices to:
7062 Camp Dogwood Drive
PO Box 39
Sherrills Ford, NC 28673