About
The North Carolina Lions, Inc. is a 501(c)(3) non-profit organization.  Contributions to the NCLI qualify for the charitable tax deduction.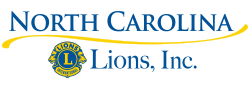 NCLI is owned and operated by the Lions of North Carolina.  The major focus of NCLI is working with the blind and visually impaired and other sight related issues.  NCLI operates a number of state-wide programs dealing with issues for those who have lost their sight.  We also have programs for detection and prevention of loss of sight.
For more information on North Carolina Lions, Inc., please visit our web site nclionsinc.org.